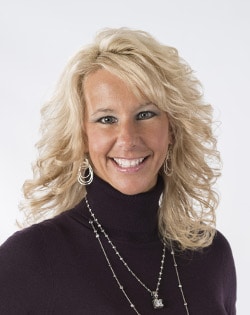 My name is Susan Hedlund.  I am a member of the front office team and help oversee bookkeeping / accounting, business operations and office administration.  I am a graduate of Bowling Green State University with a degree in Marketing and a graduate of Oakland University with a Masters Degree in Business.  I reside in Rochester Hills with my husband and two children.
Having been a patient for over 10 years before joining the practice, I experienced the high quality of care the team provided and how welcome I always felt when coming to my dental appointments.  When the opportunity arose for me to work at Rochester Advanced Dentistry, I knew it would be a wonderful professional experience as well.  As a member of the team for over seven years now, I am able to extend the same level of customer service to others that I enjoyed receiving as a patient.
Our office offers the latest technology and advancements in the industry, and Drs. Doolin and Haddad take pride in providing the highest quality dental treatment.  I have been fortunate to have been able to attend continuing education seminars with our team through the Las Vegas Institute which helps us further enhance our patients' overall experience with us.
Working in the front office allows me to have the first initial contact with our new patients and to see how we have helped them from their first initial phone call.  Whether it is for routine dental work or a larger cosmetic case, it is always rewarding to see our patients leave with a smile. Furthermore, our patients always comment what a happy staff we are- this is because our team genuinely cares about our patients' well being.  We enjoy going above and beyond to make the patient experience a memorable one.
I feel very fortunate to be part of such an excellent team and am proud to tell friends, family and potential patients how wonderful our office is.  I truly believe in the values and philosophies of the practice and the talent and dedication of Dr. Doolin and Dr. Haddad.
Discuss your dental future with an experienced family dentist. Call (248) 656-2020 or email the cosmetic dentistry team at Doolin Haddad for your personal smile evaluation and find out what it's like to smile with confidence.