Want to enhance your smile and experience a historic and hip city in one trip? A trip to Rochester Advanced Dentistry is your answer. Nestled just 16 miles north of Detroit, Rochester is the perfect place to jump-start your journey to a brand new smile and give yourself some well-deserved travel time. We offer virtual consultations so you can learn about your procedure before you plan your trip!
About Rochester
Rochester was founded in 1818 as the first settlement of Oakland County. The vibrant downtown area boasts a rich history, delicious restaurants, and over 300 shops! If you would rather escape to nature, Rochester is also home to gorgeous trail walks at Stony Creek Metropark. Spend some time shopping, check out the historic architecture, and enjoy the beautiful scenery.
How to Get to Rochester
By Plane
Rochester Advanced Dentistry is located near two major airports:
Bishop International Airport in Flint, MI (43 miles)
Airlines include: Allegiant, American Airlines, United, and Delta
Detroit Metropolitan Wayne County Airport in Detroit, MI (44 miles)
Airlines include: Aeromexico, Air Canada, Air France, Alaska Airlines, American Airlines, Delta, Frontier, JetBlue, Lufthansa, Royal Jordanian, Southwest, Spirit, and United
By Car
Rochester Advanced Dentistry is conveniently located off Interstate 75.
Where to Stay in Rochester
Rochester offers a wide variety of accommodations located near fun attractions to make anyone's dentistry vacation extra special and convenient.
Royal Park Hotel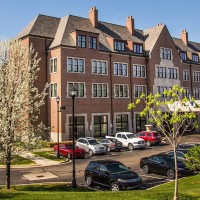 Located just outside Detroit, Royal Park Hotel offers a boutique-style luxury experience you won't forget. It's also one of the most romantic hotels in the entire state of Michigan. Royal Park Hotel boasts unique architecture reminiscent of an English Manor and offers a gorgeous lush landscape to relax in. Each suite is perfect for anyone looking to travel like a local to the great state of Michigan. The hotel is located just 0.6 miles from Rochester Advanced Dentistry!
Mariott By Great Lakes
TownePlace Suites by Mariott is the perfect place to balance comfort, affordability, and convenience. Each suite helps you feel at home with a complete and fully-equipped kitchen, high-speed wifi, pool, and state-of-the-art swimming pool. It's also located near LEGOLAND Discovery Center Michigan, SEA LIFE Michigan Aquarium, and much more. You and your family will love staying here. Not to mention, it's located right near several different lakes.
Where to Eat in Rochester
Most of the following restaurants are located within walking distance from Rochester Advanced Dentistry and the Royal Park Hotel.
Opened since 1985, Bologna Via Cucina is a family-owned neighborhood restaurant that offers delicious seasonal Italian dishes and regional craft beers.
The Silver Spoon
Escape to Italy with an authentic Italian experience complete with amazing ambiance, food, and wine!
Taste some of your favorite dishes for breakfast or lunch with fresh ingredients and a relaxing atmosphere.
If you've never tasted a Coney Island hot dog, here's your chance!
Experience everything a great neighborhood restaurant should be with a wide variety of cuisines to choose from.
Penny Black Grill & Tap
Get your favorite bar food and drinks in one spot from gourmet burgers to caramel pretzel brownies a la mode.
Buddy's Pizza Bar & Grill
Not sure what type of food to eat? Buddy's Detroit Style Pizza is always a good idea!
What to Do in Rochester
There's plenty to keep you busy when you're not visiting our dental office. Check out these fun locations.
Shop until you drop! Somerset Collection is a large mall that contains the top retailers and designers in one location.
Take a historic tour of this National Historic Landmark built by one of the most remarkable women in automotive aristocracy, Matilda Dodge Wilson, widow of John Dodge and married to lumber broker Alfred Wilson. The home is unlike any Tudor-revival you've ever seen.
Paint Creek Trail
Spend some time in nature on this 8.9-mile wide trail that passes through gorgeous scenery.
Explore three attractions in one location including the Henry Ford Museum of American Innovation, Greenfield Village, and the Ford Rouge Factory Tour.
And More!
Rochester has lots to do, and there's even more to explore in the Detroit area. Contact us at (248) 656-2020 to start planning your trip to Rochester Advanced Dentistry and everything our beautiful city has to offer today.