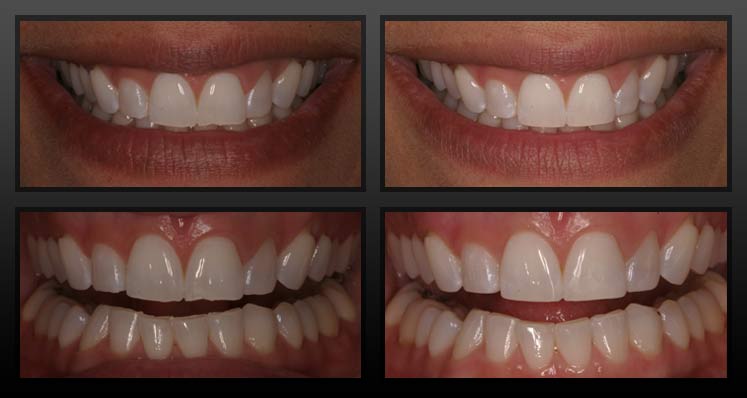 The Dental Bonding Procedure
Your dentist will first slightly roughen the tooth surface. Then he'll apply the bonding, shape it, and cure (harden) it with a special light. After the newly reshaped tooth is finished and polished, it's ready to make its smile debut!
Stain-resistant bonding material is chosen from a color wheel of shades in order to match your teeth closely. Bonding does not require you to wait for restorations to be crafted in our lab – with just one easy visit, you can be enjoying your new look. Although not usually required, anesthesia may be recommended if bonding is being used to fill a cavity.
Problems solved by dental bonding
Teeth affected by decay
Chipped or cracked teeth
Stained or discolored teeth
Crowded or widely-spaced teeth
Short teeth
With this cosmetic dentistry treatment, our dentists' artistic abilities really shine through. As each bonded tooth is molded to create a custom tooth shape, you are one step closer to having a very harmonious smile that matches your unique personality!  Please call us to come in for a personal evaluation to determine if you are a candidate.
Limitations of Dental Bonding
Dental bonding is great, economical approach to reshaping your teeth, but there are many reasons why you might consider an alternative like porcelain veneers.
Initially attractive, but it is not as durable as porcelain veneers for many reasons. First, it's more prone to wear, which means that the bonding will gradually wear away. The bonding can also break off the tooth, and once that happens it can't be rebonded to the tooth. And dental bonding is prone to staining, so over time it will darken and lose its color match.
And although dental bonding is attractive, it's not as attractive as porcelain veneers, which have a better luster that is more like tooth enamel.
Enhance Your Smile
If you are looking for a conservative way to enhance your smile, consider dental bonding from Rochester Advanced Dentistry. We've helped thousands in Rochester, Rochester Hills, Troy, and Oakland, Macomb and Shelby Townships finally achieve a balanced and beautiful smile with bonding.
Our doctors specialize in more than cosmetic dentistry alone. Learn about the reconstructive dentistry and neuromuscular dentistry areas of our practice.
Ready to learn more about dental bonding? Call (248) 656-2020 Rochester Advanced Dentistry today for your personal smile evaluation.