View Our Other Veneer Patients
If severe dental problems are affecting your quality of life, consider full mouth reconstruction.  Full mouth reconstruction repairs or replaces broken and worn down teeth, and most importantly rebuilds your bite to what it was 10-20 years ago for a beautiful, healthy and functional mouth.
Full mouth reconstruction may be necessary due to:
Poor bite (overbite or crossbite)
Aggressive wear on the tooth
Accidents or injury
Full mouth reconstruction may include:
Jaw Joint Pain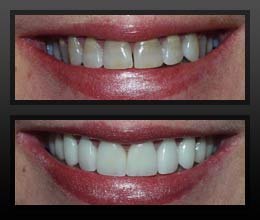 View Our Other Veneer PatientsTMD is a painful disorder affecting the temporomandibular joint of your jaw. Head and neck pain, teeth grinding and a 'popping' sound are just a few of the typical symptoms. Neuromuscular appliances called "orthotics" can properly position your jaw to relieve the pain, and computerized neuromuscular technology can assist in determining the most comfortable bite position. Dr. Doolin and Dr. Haddad are two of the few dentists in the state of Michigan who have this equipment and are trained to use it to treat these issues.
Full mouth restoration techniques may also help, including:
Combining cosmetic dentistry with neuromuscular (TMD) dentistry, Dr. Doolin and Haddad bring their complete LVI training and years of experience to the forefront to correct your dental issues and create your attractive, new smile.
If you are considering full mouth restoration, let Dr. Doolin and Dr. Haddad and our experienced team work with you to determine the right combination of procedures that will help you achieve the natural, attractive smile you desire. Please call (248) 656-2020 or email us today.