What Is A Full Mouth Reconstruction?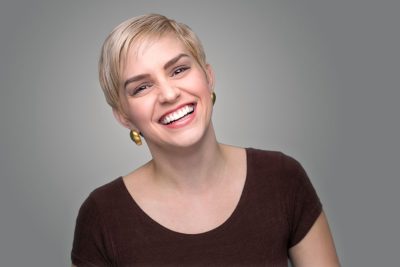 A full mouth reconstruction is a series of treatments that restores missing, damaged, and worn teeth back to their full glory. Additionally, we'll repair your bite to reduce TMJ or gum disease pain. When you consider reconstructing your mouth in Rochester, MI, your possibilities are endless. Since treatment is specific to you, your treatment plan depends on your goals. You might need:
Do You Need a Full Mouth Reconstruction?
A full mouth reconstruction is a versatile series of treatments that are custom designed with your smile goals in mind. Doctors Haddad and Doolin can restore your smile if you have one or multiple of these concerns.
Poor bite (overbite or crossbite)
Aggressive wear on the tooth
Accidents or injury to teeth or jaw
Missing teeth
Your reconstructive and cosmetic dentists will consult with you about your goals and the health of your teeth and mouth. After a full consultation, you'll design your new smile and treatment plan together.
A Full Mouth Reconstruction Can Fix Jaw Pain
Jaw pain is one of the most common reasons for full mouth reconstruction, and often, its underlying condition is the reason for your worn, broken, or cracked teeth. Temporomandibular joint disorder or TMJ results when your jaw is misaligned. A few common symptoms of TMJ disorder are headaches, teeth grinding, facial pain, clicking or popping sounds when you open and close your mouth, and the alarming condition of a locked jaw.
The first-line treatment for TMJ is to wear a neuromuscular orthotic that works to correct your jaw position. After your symptoms have left and it's clear that we've found the optimal position for your jaw, the next phase of treatment is to reconstruct your mouth to keep your jaw there at all times without an orthotic. We do this by building up your teeth with porcelain veneers, dental crowns, bridgework, dental implants, and onlays.
You'll be amazed by how you feel after reconstructing your mouth to hold your jaw in the right position.
Before Full Mouth Reconstruction
Jaw pain from TMJ
Headaches
Sensitive teeth from grinding
An incomplete smile
Teeth that are broken and chipped
Crooked teeth
Unhealthy mouth
Difficult chewing
Difficult speech
Low self-confidence
Difficulty in social situations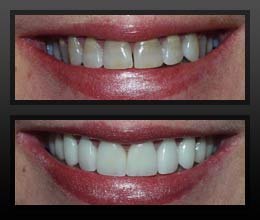 After Full Mouth Reconstruction
A full smile with no gaps or broken teeth
White teeth
Straight teeth
You can eat and drink whatever you'd like without sensitivity
Easy chewing and speech
Confidence in social situations
Confidence at work and at home
Good oral health
Do You Need Restoration In Rochester, MI?
Combining cosmetic dentistry, reconstructive dentistry, and neuromuscular (TMD) dentistry, Drs. Doolin and Haddad bring their complete LVI training and years of experience to the forefront to correct your dental issues and create your attractive, new smile. Both doctors place a heavy emphasis on creating fully functional, pain-free, and beautiful smiles. After all, part of the function of your smile is to dazzle others!
We strive to ensure that our dental office and treatments are comfortable and relaxing for our patients. We believe that dentistry should be stress-free and simple. That's why we make a point to fully listen to your concerns and give you straightforward answers that you can make informed decisions from.
Let Drs. Doolin, Haddad, and their team of experts give you the smile you've always been dreaming of. Call (248) 656-2020 today or make an appointment online. You'll be glad you chose Rochester Advanced Dentistry.