Dental Implants Rochester, MI
Why travel all over town to get your dental implants? You don't need to visit one office for your scans, another for the implant and grafting, and another for your bridge, crown, or denture? It's not just inconvenient–with all those offices, there's more chances for miscommunication. Our expert implant dentists can handle your entire procedure right here in one office.
Benefits of Dental Implants
Dental implants are a tooth replacement option that is designed to be as close to the look and function of your natural teeth as possible. Dental implants:
Look natural
Function like natural teeth–easily chew all types of food
Support themselves–they don't affect other teeth
Support your gums and jawbone
Require the same maintenance as natural teeth
Can last a lifetime
Dental implants are the most like your natural teeth because they are structured like natural teeth, as you'll see below. With natural bone and gums around them, and a cosmetic crown, they look just like your natural teeth. And they let you chew food just like natural teeth.
Dental implants don't have to be removed to clean them. You just brush, floss, and see the dentist regularly. Take care of them properly, and they will likely last for decades–even a lifetime.
Anatomy Of A Dental Implant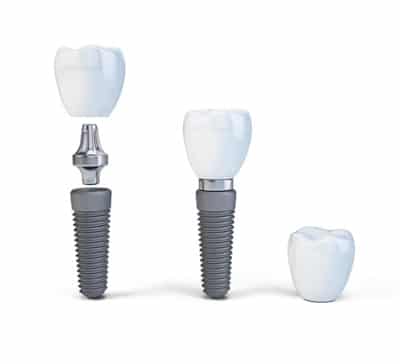 Titanium Root
Just like your natural tooth root, this is the part of the implant that bonds to your jawbone. This is usually made of titanium, a metal that bonds with your bone.
Abutment
The abutment is a connecting piece that links the root to the restoration. It may be made of titanium or ceramic, depending on the design. Not all implants require an abutment.
Restoration
The restoration is the visible portion of the implant, and it's usually made of an attractive ceramic that looks just like a natural tooth. The restoration can be a single crown, a bridge replacing several teeth, or even a full denture.
Got Questions! We'd Love To Help!
One Practice For Your Entire Implant
Other dentists will tell you that you have to visit two or three offices to get your dental implants. But at Doolin Haddad Advanced Dentistry, we can place all three parts of the implant at our office. And with the option of sedation dentistry, fearful patients can enjoy the benefits of implants.
The CT Guided Implant Process 3D Scans
Using our cone beam CT scanner, we can create a virtual model of your jawbone anatomy. This shows us everything we need to know: the size and density of bone, the route nerves take through your jaw, and any existing damage that may be a concern. Surgical Plans
Based on the scans, we plan your surgery in advance. We can optimize the surgical plan to ensure the implant(s) go where there is enough bone to support them, and avoid areas that can cause complications. We translate these plans into a surgical guide. Efficient Surgery
With our surgical plan already made, we can minimize the time you spend in the chair, ensure precise placement of your implants, and minimize risks so you get the best implant experience and results. We can usually place implants at the same time as teeth are extracted, if necessary. Bone grafts may be used to improve the bone around implants.
3D Imaging Improves the Implant Process
We utilize the latest techniques and technologies to ensure our patients have the best experience and best results possible. This includes using cone beam computed tomography (CBCT) to get 3D images of your jaw before we start surgery.
Two dimensional x-rays often don't give enough information for implant surgery, and relying on them could lead to problems.
But with 3D imaging, we know the exact shape and density of bone in your jawbone and the location of nerves and other structures that can lead to complications. We can plan your surgery to be successful before you sit down for surgery. We can even know if you need a bone graft to support your dental implants. That way, when you sit down for surgery, the procedure will be quick, predictable, and successful.
Zirconia Full Arch Restoration
If you have lost all your teeth and are looking for an implant denture, we offer advanced zirconia full arch restorations. These restorations combine the beauty of ceramic restorations with unparalleled strength and durability.
The restorations are made of yttrium-stabilized zirconia ceramic, which is an amazingly strong ceramic. The strength of this ceramic approaches 300,000 pounds per square inch! That's stronger than the titanium implants, and capable of resisting any normal biting and chewing forces. And with neuromuscular dentistry, we can balance the forces on your denture within those limits.
A zirconia full arch restoration looks beautiful, functions great, and lasts a long time.
Dr. Kurt A. Doolin trained with many of the leading pioneers in dental implants, including Dr. Carl E. Misch in 1991. Dr. Doolin completed a Fellowship in the International Congress of Oral Implantologists in 1992. He has received specialized training in dental implants, including the use of 3D imaging and computerized planning to improve dental implant accuracy and success.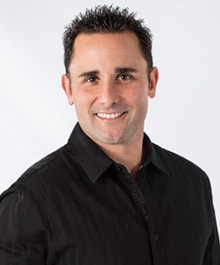 Dr. Jeffrey S. Haddad completed Dr. Leo Malin's comprehensive advanced Implant Continuum in 2010. Since then, he has transitioned to always utilizing the 3D imaging process to ensure the most precise, accurate placement of dental implants. His recognized expertise in this area has made him an in-demand lecturer and teacher for implant dentists.