If you've tried teeth whitening before but were unhappy with the results, then you should try KöR Whitening. Whether your complaint was that your teeth didn't whiten enough, tooth sensitivity, or results that just didn't last, you'll be excited about KöR Whitening. It will get you the results you desire, even if your teeth are stained because of tetracycline antibiotics. And it's easy to use, too.
If you are looking for the most effective teeth whitening available in the Detroit area, try KöR Whitening. Please call  today for an appointment with a cosmetic dentist at Rochester Advanced Dentistry.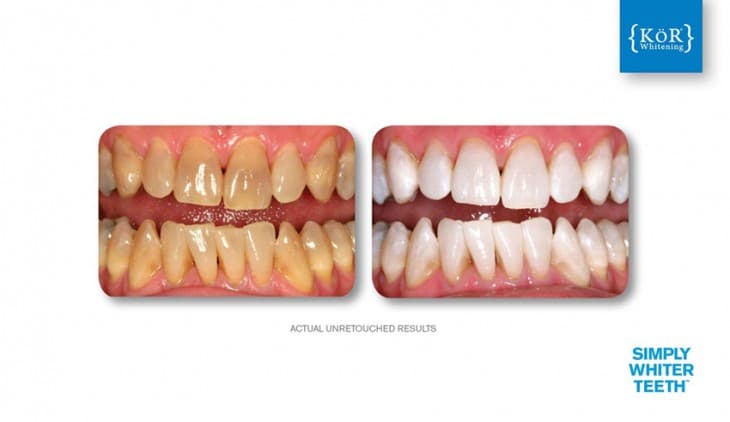 Benefits of KöR Whitening
Many people give up on teeth whitening because they tried it and it didn't work. But the truth is that not all teeth whiteners are the same. Whether you've tried whitening on your own or if you've done a different in-office procedure at your dentist's office, you'll be delighted at the difference with KöR Whitening.
Here's what makes it different from other whiteners:
The only system recognized to whiten tetracycline stained teeth
Unique quality control leads to predictable whitening results
Choose your whitening method:while you sleep, or during the day!
Maintain results for a lifetime without giving up coffee, tea, or red wine
Typically little to no sensitivity
Whiten teeth at any age
Teeth stained by tetracycline antibiotics were thought impossible to whiten. The staining is deep inside the tooth and didn't respond to earlier whitening systems. But KöR Whitening can dramatically whiten tetracycline stained teeth.
Most teeth whitening systems are unpredictable. That's because the potency of whitening gels can be depleted by exposure to heat. This is definitely a factor for over-the-counter products, but even those available in your dentist's office may have been damaged by heat. KöR Whitening is the first company in the world that ensures its whitening gel is continuously refrigerated from the moment of creation to the moment of delivery.
KöR Whitening can be adjusted to fit your goals and your schedule. It's easy to use for whitening at home. For overnight whitening with KöR Night, just put the trays in before bed and wake up with a brighter smile. The trays are so comfortable that people don't have difficulty sleeping with them. Most even forget that they have the trays in. Or you can opt for KöR Day, which allows you to whiten your teeth during the day.
With KöR Max, you follow-up the at-home whitening with a 1-hour visit to our office. We'll apply a strong whitening gel that helps finish off the whitening process and ensures your teeth stay white. Because you can periodically use it to maintain your results, you don't have to give up your favorite staining foods and beverages to enjoy bright white teeth for life.
And while some people do experience sensitivity while whitening teeth, most people using KöR Whitening report little to no sensitivity.
Typically, teeth become more resistant to whitening as we get older. But with KöR Whitening, we are able to whiten your teeth at any age.
Why KöR Whitening Is Different
KöR Whitening is able to offer better benefits because it's a different system that uses a unique approach to teeth whitening.
One key to the success of KöR Whitening is the whitening trays. Typically, teeth whitening gel is only effective for half an hour before saliva dilutes it and it stops working. But with KöR-Seal trays, saliva and other fluids are kept separate from your teeth, allowing the whitening formula to work much longer and penetrate deeper into your teeth.
It also uses an advanced formulation of peroxide. Mixing whitening chemicals too soon can dilute their potency, but with its Tri-Barrel delivery system, KöR Whitening keeps the whiteners separate until they're ready to be used. This ensures maximum effectiveness at the time you apply it to your teeth.
Another key issue is quality control. Heat exposure will weaken whitening gel, and many whitening gels can be exposed to heat before they reach your dentist's office. But KöR Whitening gels are continuously refrigerated from the moment of manufacture until they're delivered, ensuring high quality results.
What If KöR Whitening Doesn't Work?
Although KöR Whitening is the most advanced and effective teeth whitening system in our opinion, there are still some situations where it won't whiten your teeth. Usually, this is because the discoloration is related to tooth injury, enamel defects, or enamel erosion.
We'll be able to identify that before you start KöR Whitening and recommend alternatives, such as porcelain veneers, dental crowns, or other cosmetic dentistry procedures.
Want to learn whether KöR Whitening will work for you? Please call (248) 656-2020 today for an appointment with a Detroit cosmetic dentist at Rochester Advanced Dentistry.
More Results