Do you have missing teeth?
click to zoom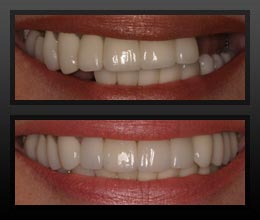 View our before and after gallery!
Since dental implants are essentially artificial tooth roots, they can be placed in areas where teeth are missing and crowns can be attached for a highly esthetic, functional restoration.  Dental implants can be placed to replace a single tooth, or several implants can be placed to restore up to a full arch of missing teeth.  The replacement teeth can be permanent or removable, depending upon what the patient desires and the Dentist sees as appropriate for that individual.  The anchorage that dental implants provide for previously missing teeth let people feel as though they were never missing their own teeth at all.  The confidence and comfort that this provides is dramatic!
Are your dentures loose and uncomfortable?
Following tooth loss, the jaw bone shrinks or resorbs over time,  making wearing a removable partial or complete denture uncomfortable or even impossible.  Denture wearers spend millions of dollars annually buying adhesive pastes and powders to try and stick their dentures in their mouths.  Placement of two or more dental implants under new or even existing dentures provides excellent retention and stability.  The use of adhesives becomes a thing of the past.  Now, implant retained dentures simply snap into place.
Have you been avoiding the foods you used to enjoy?
Apples, corn on the cob and steak can be a denture wearer's nightmare.  Implant retained dentures will allow you to once again enjoy these foods.  The implants will give you the support to have the palate of the upper denture removed, allowing you to feel the texture, temperature, and most importantly, taste our food again.
Were you born without some of your permanent teeth?
Many people are born without permanent successors to some of their primary, or baby teeth.  Most commonly these are the upper lateral incisors, next to your middle two teeth and your lower second bicuspid teeth, in front of your molars.  In the past, these were replaced with conventional fixed or removable bridgework.  This prosthetic work had to be attached to the neighboring teeth with cements or metal clasps.  This alters the natural enamel and may cause hygiene problems.  Today, single implants with perfect porcelain crowns on them are a permanent solution to this problem.  (see "Do you have missing teeth?")
Rochester Advanced Dentistry has helped countless patients in Rochester, Rochester Hills, Troy, and Oakland, Macomb and Shelby Townships complete their smiles with dental implants. Learn more about the benefits of replacing missing teeth by scheduling a personal smile consultation. Call (248) 656-2020 or email our experienced cosmetic dentistry team today.