Dental crowns
, also known as caps are long-lasting restorations, but eventually they will need replacement. Sometimes they will fail because they wear out or break. Other times, you might be unhappy with the appearance of your restorations, which may never have been attractive in the first place or may have aged badly. Dental caps are vulnerable to developing decay under them. And sometimes caps are placed in a way that interferes with your bite.
If you are unhappy with the appearance or function of your current dental caps, please call (248) 656-2020 for an appointment with a Rochester, MI cosmetic dentist at Rochester Advanced Dentistry.
Why Replace Your Dental Caps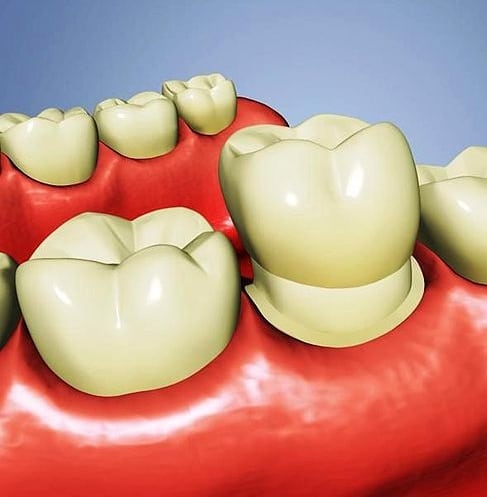 Replacing outdated caps is an excellent way to refresh and rejuvenate your smile and take years off your appearance. Caps are a great-looking, proven option for correcting teeth damaged by:
Trauma
Too much filling
Infected tooth pulp
Crowns are also a good solution for supporting
bridges
that replace several missing teeth, or to support
dental implants
used during your
smile makeover
.
Although dental caps are long-lasting, they don't last forever. There are many reasons why dental caps may need to be replaced, such as:
Broken or worn cap
Decay under the cap
Unattractive cap
Uncomfortable bite
Other times, you might need to replace a cap because it is needed to support a dental bridge. Dental caps on top of dental implants can be replaced as well as those over teeth.
Dental caps can also be placed in such a way that they interfere with your bite. When a cap doesn't fit in your bite, you might feel discomfort in the capped tooth, the opposing tooth, or in your jaw. It's even possible for a poorly fitted crown to lead to temporomandibular joint disorders (TMJ).
What Type of Cap Is Best?
All metal crowns were once the only option. Today's crowns are now available in porcelain fused to metal or all porcelain. All metal crowns are durable, but they are highly visible. Many people have metal allergies and may experience related symptoms. In addition, having different metals in your mouth can lead to corrosive galvanic currents.
Porcelain fused to metal crowns create a more natural look and add strength to the teeth, especially in the back of the mouth, but some patients develop a gray line at the gums, when gum recession reveals the metal under the porcelain. Porcelain fused to metal crowns can also be vulnerable to breaking the ceramic on top of the metal.
Today's Natural Looking Porcelain Crowns
All porcelain crowns offer the most natural and translucent option to most closely match the look and feel of your natural teeth, with no concern about metal showing through at the gum line. Porcelain crowns fit securely over the tooth and are strong and long lasting. That's why they are a preferred restoration technique with top cosmetic dentists like Dr. Doolin and Dr. Haddad.
To learn more about replacing your damaged or unattractive caps with new all-ceramic ones, please call (248) 656-2020 for an appointment with a Rochester cosmetic dentist at Rochester Advanced Dentistry.