Replacing outdated crowns is an excellent way to refresh and rejuvenate your smile and take years off your appearance. Crowns, also called caps, are a great-looking, proven option for correcting teeth damaged by:
Trauma
Too much filling
Root canal treatment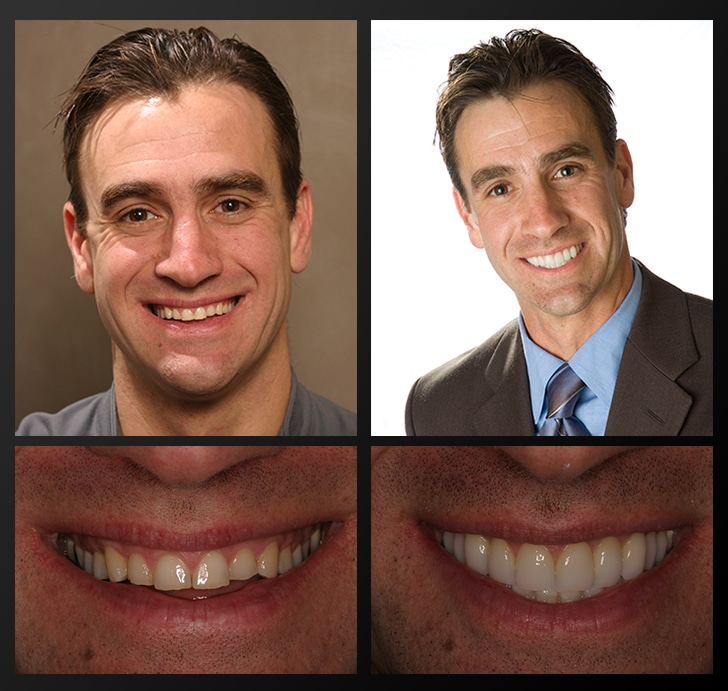 Crowns are also a good solution for supporting dental implants used during your smile makeover.
What Type of Crown is Best?
All metal crowns were once the only option. Today's crowns are now available in porcelain fused to metal or all porcelain. The drawback of all metal crowns is the unattractive gray line created at the gum line as the metal shows through the tooth. Porcelain fused to metal crowns create a more natural look and add strength to the teeth, especially in the back of the mouth, but some patients still develop a gray line at the gum line.
Today's Natural Looking Porcelain Crowns
All porcelain crowns offer the most natural and translucent option to most closely match the look and feel of your natural teeth, with no concern about metal showing through at the gum line. Porcelain crowns fit securely over the tooth and are strong and long lasting. That's why they are a preferred restoration technique with top cosmetic dentists like Dr. Doolin and Dr. Haddad.
How Porcelain Crowns Work
Drs. Doolin and Haddad proceed through four steps to restore your teeth with porcelain crowns:
Decayed or damaged areas of the tooth are removed.
A mold is made of the remaining tooth structure, then used to create the crown.
The porcelain crown is fitted over your tooth, and adjusted for the best fit.
The crown is permanently bonded to your tooth.
Choosing a highly trained and skilled cosmetic dentistry team makes a big difference in the look of your final restoration.
When you choose Rochester Advanced Dentistry for your cosmetic dentistry needs, you'll know from your first visit that you are in the best of care. Why not schedule your consultation today? Call (248) 656-2020 to learn more.