Check back here often to get the latest happenings in our practice!
---
FOX 2 NEWS FEATURES OUR PRACTICE IN NEW ORAL CANCER TECHNOLOGY SEGMENT
Rochester Advanced Dentistry is using a new fluorescence technology called Oral ID™ to help make screenings more effective in the early detection of oral cancers. The number of oral cancers has increased significantly over the past six years, while the majority of other cancers have declined. Similarly, five year survival rates for the majority of cancers have increased, while oral cancer survivor rates are unchanged, mainly due to lack of early detection. When found in later stages, oral cancer survival rates are significantly decreased. The CDC now recommends individuals get an oral cancer screening annually beginning at age 17.
Rochester Advanced Dentistry has incorporated the FDA cleared Oral ID™ as part of its traditional oral cancer screening. Oral ID™ is a hand held device the size of a small flashlight and is used as part of an intra-oral exam. With Oral ID™, healthy mouth tissue emits a bright yellow-green fluorescence while abnormal tissue appears dark, with a lack of fluorescence.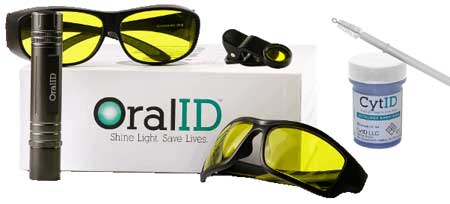 "Dentists are the first line of defense in fighting oral cancer and we have always done head and neck screenings during every dental cleaning, but we are very hopeful that Oral ID™, which provides additional data to current oral cancer checks, will improve our efforts," said Dr. Jeff Haddad, a partner in Rochester Advanced Dentistry. "Our screenings, which will also be available to non-patients in April, include examining the tongue, cheeks, and the roof of the mouth and surrounding gum tissue. We also check the neck for swollen lymph nodes, which can be a sign of infection or disease. We will then examine the entire mouth utilizing the new Oral ID device. If we find anything suspicious, we have the individual return in two weeks for a re-check and then make a referral to the appropriate specialist if further evaluation is needed.
"Dr. Kurt Doolin, founder of Rochester Advanced Dentistry, said the new Oral ID™ provides more data than current oral cancer checks.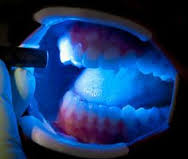 "Oral ID™ will help catch oral cancer or dysplasia (pre-cancer) early and provides another opportunity for us to educate the public about the risk factors for oral cancer," said Dr. Doolin. "We are pleased that our reputation as an education-focused dental practice has resulted in gaining early access to this potentially life-saving medical device."
Traditional risk factors for oral cancer are a previous history of cancer, tobacco use (including smokeless tobacco) and excessive use of alcohol; drinking alcohol in conjunction with tobacco use greatly increases oral cancer risk. However, up to 40 % of oral cancers occur in patients without these risk factors or other significant lifestyle risks. Contributing to the increase in oral cancers is the sexually transmitted human papilloma virus (HPV), the fastest growing cause of oral cancer.
Dr. Haddad has created a number of resources for learning more about oral cancer, including an article about oral cancer, information on oral cancer in our patient library,
HEAR MORE ON DR. HADDAD's RADIO SHOW "SIMPLE TRUTHS FOR HEALTHY LIVING"
Click on these links to listen: Early Oral Cancer Detection or Risk Factors for Oral Cancer.
---
April 2014 – Rochester Advanced Dentistry offering free oral cancer screenings in April in recognition of Oral Cancer Awareness Month
---
April 2014 – Dr. Haddad and Rochester Advanced Dentistry are partnering with an Ear, Nose and Throat Doctor to provide a new service called SoundBite for partially deaf patients. Visit our new SoundBite page for more information on the technology, treatment process, and consultation information!