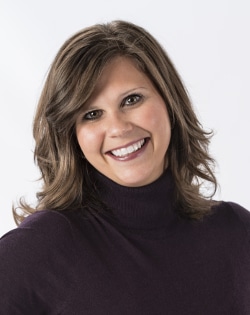 My name is Rachael and I am an assistant for Drs. Doolin and Haddad.  I have worked here for 10 wonderful years and I feel as though this is my second family. The doctors have taught me so much and they keep me striving to learn more. I have attended several LVI continuing education courses, including K7 and Full Mouth Reconstruction training and team building courses. Because of Drs. Doolin and Haddad I am confident in the work that we are able to provide our patients.
The joy of my job is the patients.  To be able to see people walk out our door, not only with a beautiful smile but pain free and able to enjoy their life is so fulfilling to me.  I love being with the patient from start to finish, making their experience as comfortable and enjoyable as possible. My patients become my friends and I feel this is the most important part of my job.
When I'm not at work I am spending my time with my husband Gabe and our beautiful daughters. We love spending time with family and friends, outdoor activities and traveling.
Discuss your dental future with an experienced family dentist. Call (248) 656-2020 or email the cosmetic dentistry team at Doolin Haddad for your smile evaluation and find out what it's like to smile with confidence.