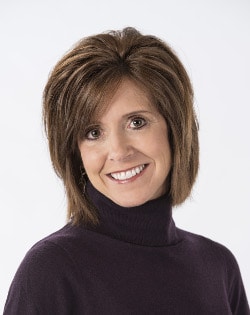 My name is Liz and I am honored to have been selected as one of the newest members of Dr. Doolin and Dr. Haddad's highly regarded team. Over the past 10 years I have owned and managed two successful businesses; an onsite fleet repair  business and a child identification franchise. Prior to that I held careers as both a medical transcriptionist and certified x-ray technician. My diverse background has provided me with extensive business experience as well as instilled the value of outstanding customer service.
I grew up in Trenton where I met my husband Rob of nearly 25 years. Our move to Rochester in 1999 was one of the best decisions we've ever made. We have been blessed with three wonderful daughters. Every day I am thankful for our family and friends and the fortunate life we lead. As our daughters have grown more independent my husband and I have had the luxury of spending more time together, usually golfing or enjoying a local restaurant or venturing off to our condo in Florida.
The team at Rochester Advanced Dentistry has welcomed me into their positive and encouraging environment as if I have worked with them for years. I am excited to expand my horizons and delve into the vast world of dental technology. I look forward to greeting you on the phone or meeting you at the front desk as our team works together to exceed your expectations.
Discuss your dental future with an experienced family dentist. Call (248) 656-2020 or email the cosmetic dentistry team at Doolin Haddad for your personal smile evaluation and find out what it's like to smile with confidence.