What Is Instant Orthodontics?
Perhaps you have heard the term "instant orthodontics," but you are not sure what it means or how it might help you. Instant orthodontics is a specialty dental procedure that uses porcelain veneers, crowns, or bonding to straighten your teeth in a couple of visits–about a month (as opposed to a year or more with braces or Invisalign).
Braces take a long time to straighten your teeth because they move your tooth roots, which requires the remodeling of bone, a slow process that is difficult to rush. Instant orthodontics works by reshaping the visible portion of the tooth so they are better aligned with each other.
When your teeth are reshaped, we can also correct problems like chips, stress cracking, or discoloration that might make you unhappy with your current smile.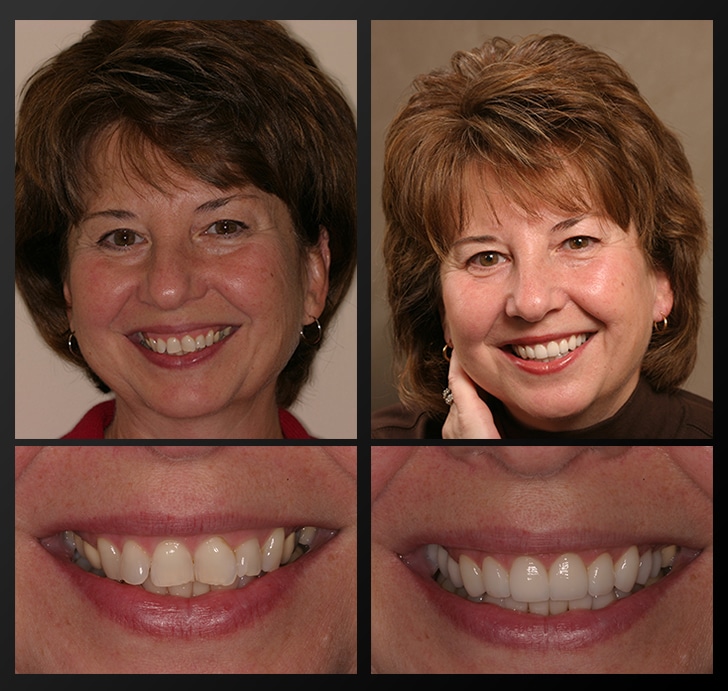 Benefits of Instant Orthodontics
Benefits of instant orthodontics are many including:
Immediate results in as little as two visits
Eliminating the need for braces
Creating an ideal bite
Correcting overbite and crossbite
Long lasting results
A totally natural, more youthful appearance
No need for a retainer
Imagine! In as little as two dental visits, you can enjoy a straighter, whiter, more beautiful smile, and the increased confidence that goes with it, all in the contemporary, warm and welcoming atmosphere of Dr. Doolin and Dr. Haddad's high-tech dental office.
Many people want teeth straightening, but don't like the idea of braces. The unattractive metal wires and brackets, plus the hygiene challenges and diet restrictions are very unappealing.
It's also one of the "dirty" secrets of orthodontics that after orthodontic treatment many people are still unhappy with the appearance of their smile because they don't like the fact that their teeth are poorly shaped, damaged, or discolored. Instant orthodontics corrects those problems at the same time as straightening your teeth.
And because instant orthodontics doesn't move your tooth roots, there is little risk of your teeth drifting. So, unlike with traditional orthodontics, you won't have to wear a retainer.
Start Your Instant Orthodontics Process Today!
If you don't have the time or desire to commit to traditional orthodontics, Instant Orthodontics may be the perfect solution. After all, why should celebrities be the only ones to flash gorgeous smiles?
Enjoy the peace of mind that comes with choosing an extremely skilled dentist who can provide expert results. Dr. Doolin and Dr. Haddad offer a distinguished level of dentistry, found only in the top 1% of dentists nationwide, to ensure the smile of your dreams.
Please call (248) 656-2020 or email our premier dental practice today to find out how affordable, noninvasive porcelain veneers, crowns and bonding can rejuvenate your smile. Your consultation is personal, and so is the boost to your self-confidence!