If you have lost one or more teeth, you have several replacement options. But the best option is dental implants. Dental implants provide the best appearance and the best function of any tooth replacements.
However, some of the people who most likely need dental implants may find that they can't get them. These are patients with dental anxiety or dental phobia. They are more likely to need dental implants because of the cycle of dental phobia that keeps them from getting regular dental care. This creates oral health problems that can lead to tooth loss.
But there is good news: thanks to sedation dentistry, more phobic patients than ever can overcome their fears and get dental implants. And, as a new study shows, they are very likely to be happy with the results.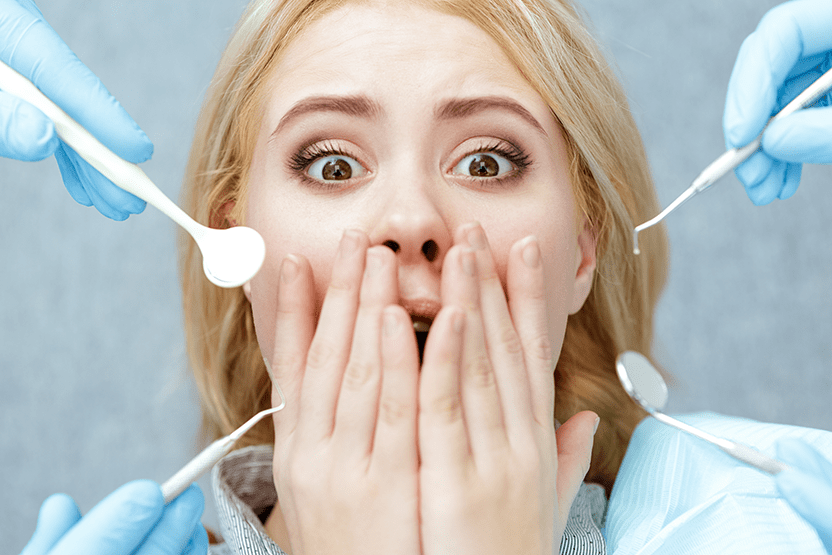 The Cycle of Dental Fear
When someone is afraid of the dentist, it can have terrible consequences for their oral and overall health. Dental fear keeps people away from the dentist. These people may be very thorough about their home oral hygiene, but without regular dental checkups and professional cleanings, they are still at elevated risk of oral health problems.
When people with fear are finally forced to see a dentist by the weight of these problems, they need highly invasive treatments. Just the description of these treatments can be daunting, which means that people with fear might never get them resolved. The problems then just get worse.
Whether they get treatment or not, the need for invasive treatments makes people with dental fear avoid the dentist even more, which in turn increases the dangers to their oral health.
This cycle can culminate with people losing some or all of their teeth. This means that they would benefit from dental implants.
Overcoming Fear Leads to Satisfaction
But how can phobic patients get dental implants? With sedation dentistry, it's possible for people with even high levels of dental fear to get dental implants. And it's worth it to them.
That's confirmed by the results of this recent study. For this study, researchers followed 82 dental phobic patients who used sedation dentistry to get dental implants. Although they reached out to all 82, only 44 responded. Of the other 38, four had died for reasons unrelated to the implants and 34 didn't respond. Of the 44 that responded, 43 agreed to rate their experience with dental implants.
Their feelings were almost universally positive: 95% were satisfied with their treatment, 96% would recommend the treatment to a friend or family member, and a whopping 97% would do it again.
Although the barrier to getting dental implants can be high for phobic patients, once they get implants, they are very happy they did.
What's Keeping You from Getting Dental Implants?
Dental implants are the best tooth replacement option available. They have a very high success rate, are easy to care for, and can last a lifetime. Plus, they let you smile, talk, and chew normally. They are worth the trouble, even for phobic patients.
Still, we understand that many people with dental phobia don't find it easy to take the first step in getting dental implants. In addition to their dental fear, they may experience embarrassment or even guilt about the state of their mouth.
We want to assure you: we welcome everyone at our office without judgment and without accusations. If you have poor oral health, it's not important what caused it. What's important is getting you a healthy, functional smile. Sedation dentistry can help you get dental implants to fully restore your smile.
If you are looking for a judgment-free dental office in Rochester, MI, please call (248) 656-2020 today for an appointment with an implant dentist at Doolin-Haddad Advanced Dentistry.