We are excited to now offer our patients options for how they would like to be notified of upcoming scheduled and unscheduled treatment.
Our new automated system will allow us to customize  a program just for you:
patients who don't need a reminder

patients who need frequent reminders

patients who need last minute reminders

text
email
phone calls
postcards
We are now able to meet everyone's needs.
 Please call our office if you would like to customize your contact setup.
If you prefer to receive only one reminder, simply respond to the first message, this will alert our system to stop future reminders.
When you schedule an appointment you will receive an email an hour later with the appointment date and time, this will allow you to add the appointment to your calendar
2 Weeks before your scheduled appointment you will receive a reminder;
 Email-click on the appropriate icon for your specific needs
Yes-I'll be there and I don't need any reminders
Yes- I'll be there but please remind me again
I have a  question, please contact me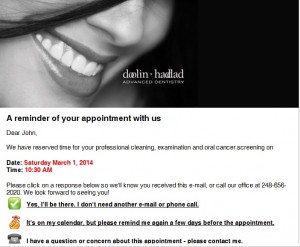 Text-  (Only if you don't have an email or you don't respond to the email)
Text "c" to confirm