Lori Blaker won the Business for Peace Award, commonly called the Nobel Prize for business. The award ceremony will be held on May 16 in Oslo, Norway. She is CEO of TTi Global, a business based in Bloomfield Hills that does, staffing, recruiting, and consulting for businesses with over 2000 workers on five continents. But she sees her work as more than that–she tries to make sure that the businesses she works with are doing good for their communities.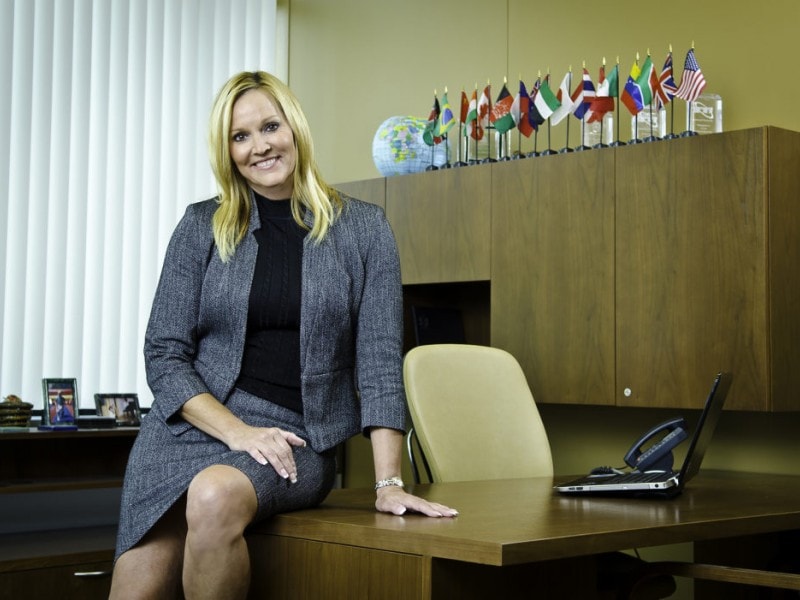 Making a Difference Where It's Needed
Lori champions inclusion and gender equality as core values of TTI Global. She brings these values to communities in the US and abroad, even in communities traditionally hostile to women's rights. For example, she is being recognized for opening an automotive service center and school-to-work training center in Kabul, Afghanistan, that teaches job skills to both women and men. She created a special training program for women to learn management skills in an industry that would traditionally ban them. Talking about the impact of the job center to the Detroit Free Press, Lori said, "A hungry man is a desperate man. A hungry man is a dangerous man. And the plight of women there, in Afghanistan? In order to get aid, the government had to make rape illegal and punishable as a crime. Until then, nobody thought twice."
Other international efforts include a general job training center in a rural area outside of Bangalore, India.
She believes so strongly in her commitment that she opens her home to women from around the globe. They come to live at her home in Metamora, and shadow her during her daily work.
Validation of Her Personal Efforts and Achievement
Lori is partly dedicated to this cause because of her own experiences trying to make it in the automotive industry in the US during the 1980s.
She married very young and had her first child at age 21 and wasn't able to finish her college degree. When she found herself divorced with four children to support, she helped her father, who had worked as an aerospace engineer, build his business developing service manuals for automotive computers. He did the technical writing, and she did the typing. "I used a lot of correction tape," she jokes.
As the computers grew more sophisticated, they expanded their offerings to include training programs, and that is where Lori excelled. Then her father died suddenly in 1992, and she became the CEO of the company. She expanded to company to offer overseas training in 1994.
As she worked to build the business, she was faced with discrimination and hostility. She remembers when she got her first large contract. As she came out of the client's office, she heard one of a group of men say, "Look at her. She just one a contract, and we all know how she got that one." It was heartbreaking, because she knew that all the work she had done to win the contract had been dismissed out of hand. And that was just one example of the treatment she received, which included belittling comments, groping, and more.
She says, "Do I watch out for other women in the industry? D*** right, I do. It's our obligation." She knows that women often depend on the support of other women for success. That's in part because she knows how much she leaned on her mother and older sister for help with the kids when she was working.
She feels that this award is an endorsement that her efforts haven't just been good for business (TTi has grown 100-fold since she took control, with $82.7 million in revenue in 2016), but good for the communities she works with.
An Inspiration for Us All
In the years we have enjoyed Lori's company at our practice, we have known how special she was. We always like to see her and marvel at her dynamism, energy, and commitment. This is not the first recognition of her efforts, and we know it won't be her last. We look forward to seeing her continued achievements in the US and around the world.