If you've ever wished for an opportunity to hear leading dentists sharing their insights about the most recent offerings in modern dentistry, now's your chance. Our three dentists, national leaders in life-changing dentistry, will discuss the latest developments in dentistry, and how those developments can help you. The event will take place Wednesday, November 29 from 6:30 to 8:00 PM at the OPC (650 Letica Dr. in Rochester.) The dentists will discuss these issues briefly, then take questions for further information.
TMJ and Headaches
Did you know that your headaches might not start in your head? Even if you've been diagnosed with migraines, the jaw condition temporomandibular joint disorder (TMJ or TMD) can be a major contributor, making your migraines more frequent and/or more severe.
TMJ can also be linked to other hard-to-treat symptoms like vertigo, ringing in the ears, and more. Many symptoms that aren't responding to conventional treatment may be related to TMJ. Come find out if yours are, too!
Smile Makeovers
This is a wonderful time in cosmetic dentistry. Modern technology and techniques allow us to perform smile makeovers that aren't just beautiful, they're more durable than ever. You can get exactly the smile you want. Restore your smile's youthful beauty, get the smile of your dreams, or subtly improve your smile with results so natural no one will guess you've had a smile makeover. Learn how we can get the exact results you want.
And did you know that a smile makeover can rejuvenate your face as well as your smile? That's right, it can give you effects similar to a facelift, but without surgery. Learn how this can help you on November 29 at the OPC.
Snoring and Sleep Apnea
Snoring is very common, so common that it's dismissed as a minor nuisance. But the truth is that it can be a sign of a much more serious condition: sleep apnea. Fortunately, although sleep apnea can be deadly, it can be treated. Unfortunately, CPAP, the most common treatment for sleep apnea just doesn't work for many people.
Learn about the comfortable and effective sleep apnea treatment alternative that our leading dentists can provide.
Dental Implants
We can't regrow lost teeth, yet. But until we can, dental implants will serve well as the next best thing.
Dental implants look natural, function just like natural teeth, can be cared for like natural teeth, and can last a lifetime like natural teeth. Learn how implants can accomplish all these goals and more. All you have to do is join us.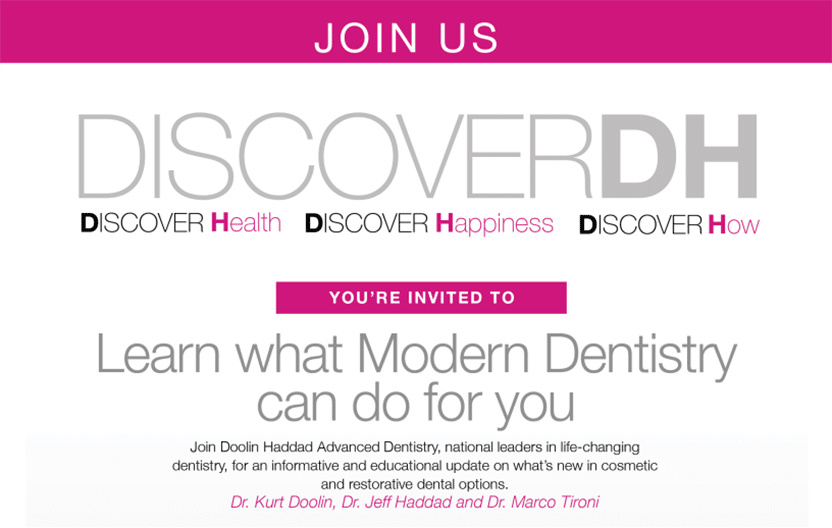 You Have Questions–We Have Answers
This is only a brief overview of the topics Dr. Doolin, Dr. Haddad, and Dr. Tironi will address at the seminar. If you have any questions about what modern dentistry can do for you, we encourage you to be at the seminar on Wednesday, November 29th, from 6:30 PM to 8:00 oo PM at the OPC, located at 640 Letica Drive in Rochester.
Refreshments will be served. All ages are welcome, but the seats are limited. Please reserve your seat today. Please call (248) 656-2020 or send an email to rita@rochesteradvanceddentistry.com.