For the second year in a row Dr. Doolin and Dr. Haddad are proud sponsors of the Hometown Hustle 5k Fun Run.This 5k Fun Run/Walk raises money to help support Rochester Community Schools academics,arts and athletic programs.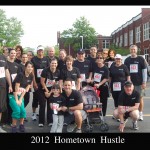 2012 Hometown Hustle
We will be providing our patients who participate in the race a complimentary t-shirt . The shirts can be picked up at our office Monday thru Thursday during our regular business hours any day prior to the run. We will donate an additional $10 to Rochester Community Schools for each patient who wears their Doolin and Haddad shirt on race day.
For additional information contact
Rochester Advanced Dentistry
248.656.2020 or info@rochesteradvanceddentistry.com The "Hometown Hustle" will begin at the Rochester Community Schools Administration Center at 501 W. University and wind through the Rochester Municipal Park, along the Paint Creek Trail and down the Clinton River Trail, into downtown Rochester, and around the residential area. Runners are chip timed and prizes are awarded in several age categories! Don't miss this opportunity to enjoy the sights and variety of settings that make Rochester such a great place to live, work and play. Gather your family and friends and come out in support of the students in Rochester Community Schools! Two steps to register: (1)
Click here
to register online for the Hometown Hustle (2)
Click here
to register for your Doolin and Haddad t-shirt Call 248-726-3190 for more information.
Pictures from last years Hometown Hustle Click here