If your teeth are starting to look yellow or stained, you might consider whitening your teeth to help them look better. Whitening your teeth is a great way to help you look younger and to emphasize just how beautiful your smile looks. However, not all teeth whitening treatments are made the same. Some can even harm your teeth. If you're wondering if bleaching your teeth is bad for them, the answer varies. It depends on what type of whitening treatment you use. Learn more about teeth whitening and how you can avoid damaging your teeth but still achieve a glowing white smile.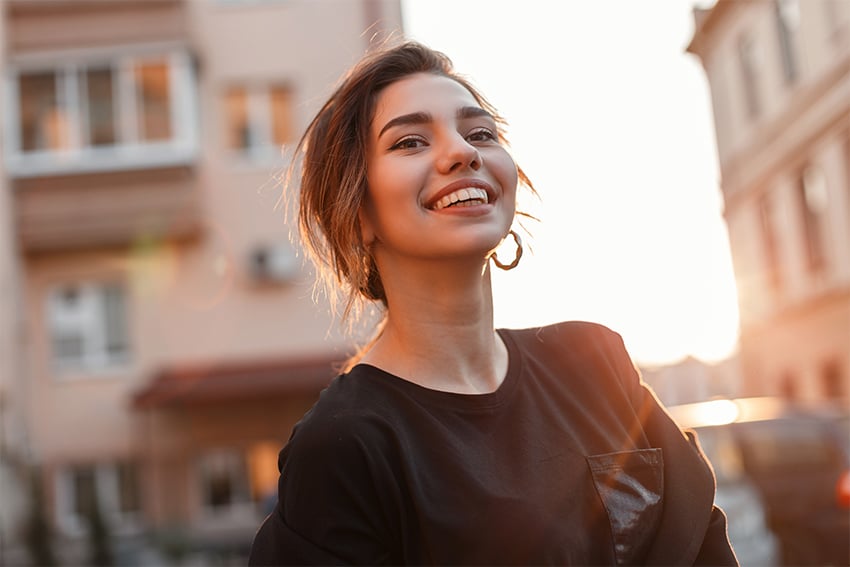 Teeth Whitening Options and Their Risks
Once you start exploring the different teeth whitening options out there, you will soon realize how many there are and how they all vary in price. Before you grab any random whitening kit you find online, it's helpful to understand the difference between different whitening kits and how they affect your teeth differently.
Over the Counter Strips and Gels
One of the first options you will find for teeth whitening is the over the counter strips and gels. Teeth whitening strips are clear thin strips coated in a peroxide whitening solution that you apply to your teeth. You then leave it on per the instructions on the package. These are usually harmless whitening products unless you use them incorrectly. Some patients also deal with a great amount of sensitivity after using it. If you leave the product on too long it might result in enamel damage or extra sensitive teeth. It's important to apply the strips correctly for even results. However, the deepest stains won't be removed with this type of treatment.
As for whitening gels, these are peroxide-based gels that you apply to your teeth. They often come in the form of a pen. These usually don't deliver very good results because your saliva washes them off your teeth before they can do any whitening.
Charcoal Toothpaste
One trending type of tooth whitening product is charcoal toothpaste. Charcoal toothpaste whitens the teeth by scrubbing the teeth. However, what many people don't know is that charcoal toothpaste actually scrubs away your enamel. Your enamel is responsible for keeping the inside of your teeth safe. Without it, your teeth will actually be more susceptible to cavities and infections. Although your teeth might look whiter when using charcoal toothpaste, you should avoid it at all costs to prevent hurting your teeth.
Whitening Toothpaste & Mouthwash
Another option for bleaching your teeth is with whitening toothpaste or mouthwash. These options are safe for your teeth but with too much use, they can lead to tooth sensitivity. In addition, whitening rinses might make your gums feel raw and uncomfortable from too much use. They might whiten your teeth but they can lead to tooth and gum sensitivity which can feel extremely uncomfortable. The results with these options also take much longer to achieve since your teeth only come into contact with the bleach for short periods of time per day. It may take months until you achieve your desired results.
Professional Teeth Whitening
The last and most safe teeth whitening option is professional teeth whitening. At Rochester Advanced Dentistry, our cosmetic dentists can provide you with a number of tooth whitening options some of which you can complete in the comfort of your own home or in our office.
The major difference between professional teeth whitening and over-the-counter options is that a dental professional supervises your entire treatment. This means that you don't have to worry about tooth bleaching harming your teeth. You can also expect beautiful professional results and less tooth sensitivity. Before we even start your treatment, we will discuss what shade of white you want your teeth to look. With this information, we will choose the correct bleaching percentage, tray times, and product for you.
For instance, if you have really deep stains on your teeth, we will recommend KöR teeth whitening because it's the strongest bleaching option we have. If you only have surface stains that need a little help, we will recommend GLO Whitening which you will start in our office and then take care of in the comfort of your own home. Its unique system delivers amazing results in 5 to 10 days with little to no tooth sensitivity!
Is Tooth Whitening in Rochester, MI Right For You?
Now that you know the difference between the different teeth whitening options and which ones can actually harm your teeth, you're likely considering professional whitening. To find out if professional teeth whitening is for you, you will first need to schedule a consultation with one of our Rochester, MI cosmetic dentists. During your appointment, we will ensure your oral health is up to standard and then recommend the best solution for you.
With our help, we can give you a smile up to ten shades whiter that lasts longer than over the counter solutions. Best of all, you don't have to worry about hurting your teeth. Contact ustoday at (248) 656-2020 to schedule an appointment.