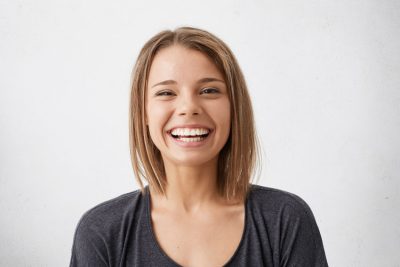 So you're ready to enhance your smile with cosmetic dentistry? Now it's time to choose the Detroit cosmetic dentist who will do it right. Cosmetic dentists can vary greatly in experience, specialties, and results, so learn all you can about prospective dentists before deciding on one to improve your smile.
To find a Detroit cosmetic dentist you truly trust takes patience and diligence. Ask the right questions and go with your instinct. Follow the tips below to help you find the smile makeover team that will treat you with respect, listen to your needs, and deliver truly personalized care.
Ask for References
First, start your search by asking friends and family if they have had cosmetic dentistry and if they'd recommend their Detroit cosmetic dentist. Don't forget to ask people who have "naturally beautiful" smiles. With modern cosmetic dentistry, you can't always tell who has had their smile improved. 
You can also consider asking your regular dentist if you really like and trust them. Many general dentists will give you good recommendations. Others might try to get you to use them for cosmetic procedures, even if they don't have the appropriate skill, training, experience, and equipment. 
Do Internet Searches
Before starting in-depth research on dentists, you want to have at least five potential dentists. Whether you get enough good recommendations from friends and family or not, do Internet searches. If you don't have enough recommendations, do a search for "Detroit cosmetic dentist" and "cosmetic dentist Detroit" (sometimes this makes a difference). Find a few likely candidates to add to your list of recommendations. 
Once you have five or more possible dentists, search for them by their name, possibly adding "dentist" or "Detroit dentist" to eliminate others with the same name. Before going too in-depth into the cosmetic dentists' website, start by looking at online reviews and any other news items that might be out there. Some dentists might show up for positive news, such as community involvement, while others might have negative press that sets off red flags, including major complications, disciplinary actions, and more. Eliminate red flagged dentists and replace them with new likely candidates. You should still have five or more potential cosmetic dentists when you start looking at their websites. 
Evaluate Cosmetic Dentists' Websites
Now it's time to take a closer look at the websites of your five top Detroit cosmetic dentists. Establish that these dentists promote cosmetic dentistry as their main focus or at least a major focus. 
Next, check dentists' bios to look at their experience and training. Look for descriptions of specialized training in cosmetic dentistry or dental esthetics, especially at prestigious schools like the Las Vegas Institute for Advanced Dental Studies (sometimes called LVI). Make a special note if they also teach cosmetic dentistry. 
Then evaluate each dentist's before and after picture gallery. Cross off any cosmetic dentist who doesn't have a gallery. 
Then, on the basis of their training, experience, and proven results, schedule consultations with your top three cosmetic dentists. Some cosmetic dentists offer free consultations, while others do not. Top cosmetic dentists might do it either way. It depends on the practice dynamics, not their demand or prestige. If a small appointment fee now helps you find the best dentist, it will be worth it. 
Questions to Ask at the Consultation
It's a good idea to go into your consultations with a standard list of questions for each cosmetic dentist. That way, you know you've got a lot of the same information for each one and can make direct comparisons. 
Here's a suggested list of questions to start with:
Which cosmetic dentistry treatments will give me the results I am looking for?
What training and experience do you have in performing these procedures?
Do you and your team perform ongoing training together?
What technology do you use to enhance results and comfort?
How long will my restorations last?
Do you perform neuromuscular dentistry?
Do you have before and after images not on your website?
Can I talk to one of your former patients, preferably one similar to me?
All the while, you should also be evaluating everything about the dental practice. You want to make sure that you're greeted professionally and made to feel welcome. When you're asking about procedures to give you the results you're looking for, you're also evaluating whether the dentist really listened to your cosmetic goals. Having additional before and after images off on the site is usually a good indicator that the office is doing frequent cosmetic dentistry since they don't yet have all their results up. In addition, the photos you look at in person are less likely to be retouched than those on the website. 
It's important to get a reference for a previous patient you can talk to. Although many cosmetic dentistry patients value their privacy, a cosmetic dentist should have at least one patient who is happy to talk about their results with potential patients. 
Choose the Best Cosmetic Dentist for You
Once you've gone to three consultations, it's time to make a decision. Choose the dentist that gives you the most confidence in their ability to give you the results you want. 
If multiple dentists give you full confidence, then break the tie with considerations like their location, their cost, and whether they offer dental financing. 
If none of the dentists you considered give you full confidence, start your search over again. Your smile is too important to let someone work on it without your full trust. 
Advanced Cosmetic Dentists in Rochester
If you are looking for a cosmetic dentist in the Detroit area, consider Rochester Advanced Dentistry. We have multiple highly experienced and wonderfully trained cosmetic dentists. 
To talk to a cosmetic dentist about your potential procedures, please call (248) 656-2020 or use our online form to schedule an appointment at Rochester Advanced Dentistry, located near Rochester Municipal Park.