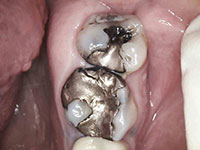 At Rochester Family Dentistry we believe in giving you the bright, white smile you deserve. Our mercury-free dentists haven't used metal amalgam fillings for over 15 years. This material has been banned in several countries including Norway, Denmark, and Sweden due to the possible health concerns. We refuse to risk our patients' health with metal fillings, especially because of how superior our tooth colored fillings and porcelain restoration are.
Mercury amalgam fillings with bacterial leakage, fractures, and expansion into the tooth.
Health Risks Associated with Amalgam Fillings
Metal amalgam fillings are not only unsightly they may actually pose potential health risks. As your Oakland County area dentists, we take pride in using only tooth colored fillings that will not subject you to these risks.
The biggest danger with amalgam fillings is the possibility of mercury contamination. Amalgam fillings are made from mercury and a combination of metal alloys, like tin, silver, and zinc. Tests in recent years have shown that mercury vapor can be released from amalgam fillings as they wear.
The FDA has warned pregnant women, children under the age of 6, and anyone with a health condition that may make them sensitive to mercury to avoid getting amalgam fillings. Mercury can have neurotoxic effects on small children and developing fetuses.
Some people can have an allergic reaction to amalgam, either to the mercury or other components. This can cause oral lesions and other reactions.
At Rochester Family Dentistry, we don't take chances with our patients' care. We prefer to remain mercury-free dentists who offer porcelain crowns and fillings.
Benefits of Porcelain Fillings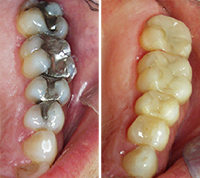 In addition to avoiding the risks of potential mercury contamination, porcelain fillings have many other benefits over amalgam fillings, including:
Natural color that closely matches your enamel
Keeps your tooth stronger because porcelain fillings actually reinforce your tooth and don't expand and contract with hot and cold
Long lasting and durable material
Bonds well with your tooth and requires less drilling into your healthy tooth for placement
Dr. Doolin and Dr. Haddad value function and appearance when restoring your smile. For porcelain fillings, we use CEREC (Chairside Economical Restoration of Esthetic Ceramics) technology, which allows us to complete your porcelain fillings, or crowns for outdated dental crowns in minutes instead of weeks. You don't have to wait for your natural, healthy looking smile. And you don't have to risk your overall health for your dental fillings.
If you are ready to schedule your next checkup with an experienced mercury-free dentist in Sterling Heights, Rochester, or the surrounding areas, please contact Rochester Advanced Dentistry or call (248) 656-2020 today.