Published: Wednesday, July 04, 2012
Move over, dental x-rays. There's a new, higher tech diagnostic tool now available for dental imaging that far surpasses traditional x-rays for difficult to diagnose dental challenges. It's a real 'game-changer' according to Rochester dentists Kurt Doolin and Jeff Haddad of Rochester Advanced Dentistry,
in speaking about their new cone beam CT scanner, the first in Southeast Michigan. Officially called the Carestream 9300, the variable field CT scan can target very specific areas, such as the lower left quadrant of the jaw, without requiring a scan of the entire head. Traditional CT scans don't offer dentists, ENT's or oral surgeons this type of precision or selectivity, nor do traditional flat panel X-rays.
"The ability to see the entire mouth, jaw and sinus cavity in three dimensions is a tremendous breakthrough for dentistry and for patients because there are many areas of the mouth that simply cannot be seen with standard two–dimensional X-rays," explains Dr. Haddad. "Using the CT scan is like exploratory surgery without the knife. We can map out each step of the surgery using the scan's software before the patient even arrives at our officefor the procedure."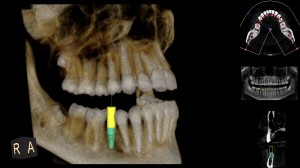 The scan is especially helpful to the practice for use with dental implants (Dr. Doolin has been surgically placing and restoring dental implants for more than 20 years) and bone and sinus grafts. Their practice also uses this technology for treatment options for TMJ, sleep apnea disorders, perplexing pain complaints and orthodontics. Recent examples where Drs. Doolin and Haddad used the new CT scan include a young patient who was referred to the practice from an orthodontist. 
"The patient had a tooth impacted sideways in the roof of his mouth.  Its position was difficult to see on a conventional two-dimensional X-ray. The ability to see the tooth and its proximity to adjacent tooth roots using the CT scanner meant we could remove it safely to ensure he was ready for orthodontics and future implant placement," says Dr. Haddad.
Other examples where the CT scan had an immediate benefit are for the patient who had a painful but thankfully non-cancerous polyp deep in his sinus cavity and a woman who experienced severe pain one year after a root canal was performed. After being referred to Rochester Advanced Dentistry, they used the CT scan to see that one of the roots was perforated and the filling was penetrating into the bone.
"This woman was in serious daily discomfort but X-rays didn't show any abnormalities; however, the CT scan immediately revealed the source of her pain. We were able to correct the problem using the guided technology and she is now pain-free," notes Dr. Doolin.
Rochester Advanced Dentistry began using the CT scanner in January 2012 after applying and waiting for more than six months to obtain permission through the State of Michigan's certificate of need (CON) process to purchase the scan.
"Michigan remains the only state in the country to require this laborious application procedure. It was frustrating to be delayed on the machine, knowing that it would have immediate benefit to our patients," says Dr. Doolin.
Extensive scientific data shows that digital dental X-rays and scans use greatly reduced amounts of radiation. However, consumers who remain skeptical can be comforted in knowing the new digital dental CT scan uses less than 1/10th the amount of radiation in a medical scan.  Dr. Doolin and Dr. Haddad remain committed to using the lowest amount of radiation possible to acquire accurate diagnostic imaging. "This is truly outstanding, safe technology that improves patient outcomes and gives dentists precise diagnostic information through 3D modeling prior to performing procedures," explains Dr. Haddad. "It doesn't replace traditional x-rays, which remain the standard for general dentistry, but it may indeed be the biggest breakthrough in dental imaging since the x-ray."
The cost of the CT scan is approximately $300. In addition to being reviewed by Dr. Doolin or Dr. Haddad, each scan is read by a certified radiologist who then provides a radiology report.