Are you missing teeth?
click to zoom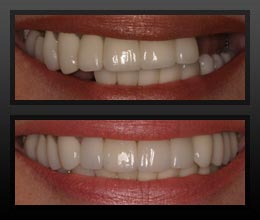 View our before and after gallery!
If you have missing teeth, chances are you may think twice about smiling big. Not only is appearance an issue, but the health of your bone, gums, and other teeth may be in jeopardy because of that gap. Consider custom dental implants to restore your complete smile, or dentures if you are missing many teeth.
Visit Rochester Advanced Dentistry in Rochester, MI today for your personal reconstructive dentistry consultation. Call (248) 656-2020 or email our smile makeover team today to learn more about improving the appearance and function of your smile. We serve reconstructive dentistry patients in Rochester, Rochester Hills, Troy, Shelby and throughout Oakland and Macomb Counties.